Henderson, Nebraska
Our Purpose
It is the purpose of Grace Children's Home to provide care, nurture, and special guidance and direction for children and youth from disrupted families. The Home is dedicated to provide for the physical, spiritual, social, emotional and educational needs of those young people placed in the care of the home. Our goal is to provide an environment in which these youth have an opportunity to learn to live life to their fullest potential.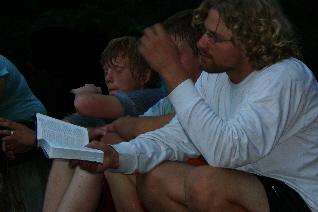 Staff and Youth Participating in a Bible Study
A Christian Atmosphere
We provide a distinctly Christian approach to child care.
Type of Children Served
Dependent, neglected, abused, and emotionally troubled youth are considered for placement, as are youth with behavior problems, including status offenders. A limited number of youth with more severe behavior disorders can be accepted, depending upon the existing client population.
The boys and girls we serve need to demonstrate some degree of ability to adjust to an open, residential setting, improve their interpersonal relationships with adults and peers, and be willing to accept a small, group-living environment. We are unable to serve those youth requiring a secure, detention-type setting or requiring the services of a hospital or psychiatric setting.
History
Grace Children's Home has been part of the Henderson, Nebraska community for over 70 years. It is a non-profit corporation operated by a private Board of Directors who voluntarily give of their time and energy to serve the needs of troubled youth.
License
GCH is licensed by the Nebraska Department of Health & Human Services as a child-caring agency and as a child-placing agency. The home is an active member of the Nebraska Association of Homes and Services for Children.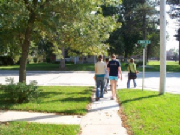 Bader Cottage Walking to School
Services Offered
Counseling - Individual and group counseling will be coordinated per program goals and objectives
Education - All children attend local public schools. Students who are verified with academic needs receive special education according to the I.E.P.
Medical - Yearly medical and dental exams are provided by community agencies. Optical exams are provided as needed.